Boulevard expands its visitors center, Imperial Stout X – Coconut drops, and the Big Chill strikes at 75th Street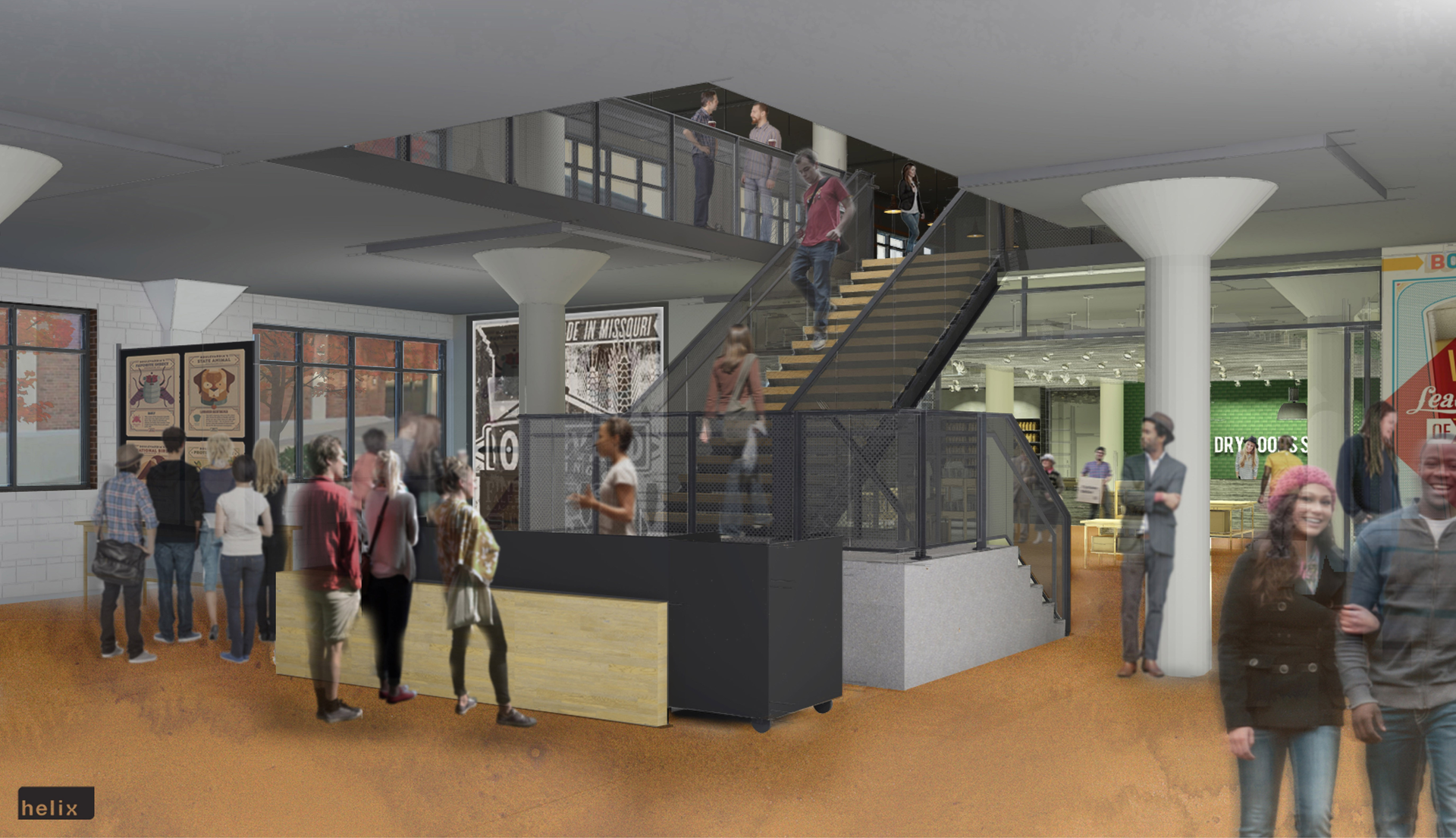 A trip to Boulevard Brewing Co. is about to become an experience. Kansas City's biggest beer producer announced last week that it plans to open a new visitors center — with a beer hall, an expanded tasting room and a retail shop — at 2534 Madison by the end of June.
The plan is for the first floor of the four-story building, which Boulevard bought last February, to house the expanded retail shop and tasting room as well as exhibits about the history of beer and Boulevard. On the 10,000-square-foot second floor will be the beer hall, where customers can order Boulevard's beer and food from a limited menu.
"This has been something that has been on our wish list for a long time," Jeff Krum, Boulevard's vice president of corporate affairs, tells The Pitch. Brewery tours, he says, have led to logjams in the existing tasting room at 2501 Southwest Boulevard. "We found that many people, after they had their samples, wanted to stay and have another beer or a bite to eat, but we had no way to accommodate those people."
The new visitor space, he says, solves those issues by allowing Boulevard to double the number of tours it can offer at peak times (Saturdays and all summer). The new tasting room will have room for about 100 people, and the addition of a beer hall means space for more than 300 people. Krum says to expect a second-story deck on the front of the building that looks toward downtown. The menu will likely feature a still-to-be-determined "signature item" as well as a meat-and-cheese platter and bar snacks, Krum says — but that's about it. No table service, and no TVs. "The idea is to keep the beer front and center," he says.
In other Boulevard news, the latest Smokestack Series limited-release, Imperial Stout X – Coconut, is out in 750 ml bottles now. There's no missing the exotic in this big beer (11 percent ABV, 63 IBUs), which packs a burst of chocolate and toasted coconut in every sip.
This week …
Thursday, February 11
Cinder Block Brewery releases its latest cider — Heart Breaker Pomegranate Cider — in a collaboration with the crew at Screenland Theaters. Tapcade (1701 McGee) throws a release party with a showing of (500) Days of Summer. (Breaks my heart every time.) Also, CBB004 Oyster Stout is out at the brewery (110 East 18th Avenue, North Kansas City).
Get into the Valentine's Day mood at the Flying Saucer (101 East 13th Street) with Founders beer — Big Lushious, Rubaeus, Blushing Monk — and food pairings from chef Derek Owen, starting at 6 p.m.
Gomer's (1606 West 75th Street) hosts a Tallgrass tasting from 4 to 6:30 p.m., Mike's Wine and Spirits (21 West 63rd Street) offers Santa Fe tastes from 4 to 6 p.m., and Waldo Pizza (7433 Broadway) lets Deschutes take over its taps with the Abyss 2014 and 2015, Black Butte XXVII and more starting at 6 p.m.
Friday, February 12
Bier Station (120 East Gregory Boulevard) hosts a tap takeover from 4 to 7 p.m. with the new Tallgrass beers: Top Rope IPA, Songbird Saison and the Grizz Imperial IPA.
Cinder Block's Heart Breaker cider collaboration with Screenland releases at the Armour theater (408 Armour Road, North Kansas City) with showings of The Princess Bride and Casablanca.
Also: Crane Brewing is the featured tasting at Happy Hour (19341 East U.S. Highway 40, Independence), starting at 4 p.m. Rimann Liquors (15117 West 87th Street Parkway, Lenexa) hosts a Samuel Adams tasting at 4:30 p.m. Waldo Pizza gets Valentine-y with Boulevard Chocolate Ale With Raspberry, Bell's Two Hearted Ale and Charleville Box of Chocolate.
Saturday, February 13
If there's such a thing as a perfect marriage, it's the one uniting beer and chili — a union being celebrated at 75th Street Brewery (520 West 75th Street) at its annual Big Chill Strong Beer and Chili Tasting.
Drink big beers from Cinder Block, Blind Tiger, Boulevard, KC Bier Co., 23rd Street Brewery, Gordon Biersch, McCoy's, Crane Brewing, Rock & Run, Torn Label and Martin City Brewing Co. from 1 to 5 p.m. Tickets cost $35.
Also: Free State opens its East Side production facility (1923 Moodie, Lawrence) for free tours today, starting at 2 p.m. And it's Cinder Block night at the Riot Room (4048 Broadway) from 9 to 11 p.m.
Sunday, February 14
Spend part of your Valentine's Day with Boulevard Brewing Co. (2501 Southwest Boulevard). Boulevard is hosting two happy-hour sessions (4-5 p.m. and 6-7 p.m.), pairing Elbow Chocolates with beer. For $25, you can taste several beers, including Chocolate Ale With Raspberry, Dark Truth Stout (with Venezuelan dark chocolate), Snow & Tell (with macadamia praline) and a couple more.
Also: Bier Station (120 East Gregory Boulevard) pours New Belgium's La Folie and Transatlantique Kriek. Grain to Glass (1611 Swift Avenue, North Kansas City) holds a chocolate-beer and coffee tasting from noon to 2 p.m.
Monday, February 15
Summit Brewing's latest Unchained Series is a twofer: Six-packs of No. 21 Us and Them include three of Us (an American IPA) and three of Them (a session IPA). It's out now.
Tuesday, February 16
Westport Ale House (4128 Broadway) throws Stout Bout Day with Stone Woot Woot, Left Hand Milk Stout, Schlafly Coffee Stout and Oatmeal Stout, starting at 6 p.m.
Get your Firestone Walker fix at Bier Station (120 East Gregory Boulevard) with a release party for Nitro Merlin — the California label's Velvet Merlin oatmeal stout, which has been magically transformed into a milk stout thanks to lactose — from 4 to 7 p.m. Also pouring: Stickee Monkee, Sour Opal, Bretta Weisse, Anniversary XIX (a blend of FW favorites that the brewery describes as a "rich, chocolaty, chewy brew with brandy-soaked raisin and holiday fruitcake flavors") and more.
Wednesday, February 17
Barley's Brewhaus taps Founders' Project Pam at 5 p.m. If you haven't had this black IPA, which was aged in maple-syrup bourbon barrels, it's time. It's a big, sweet beer at 10.8 percent ABV. Also tapping: 2015 Backwoods Bastard, Breakfast Stout and Azacca IPA.