Missouri Sen. Kurt Schaefer furthers his crusade against Planned Parenthood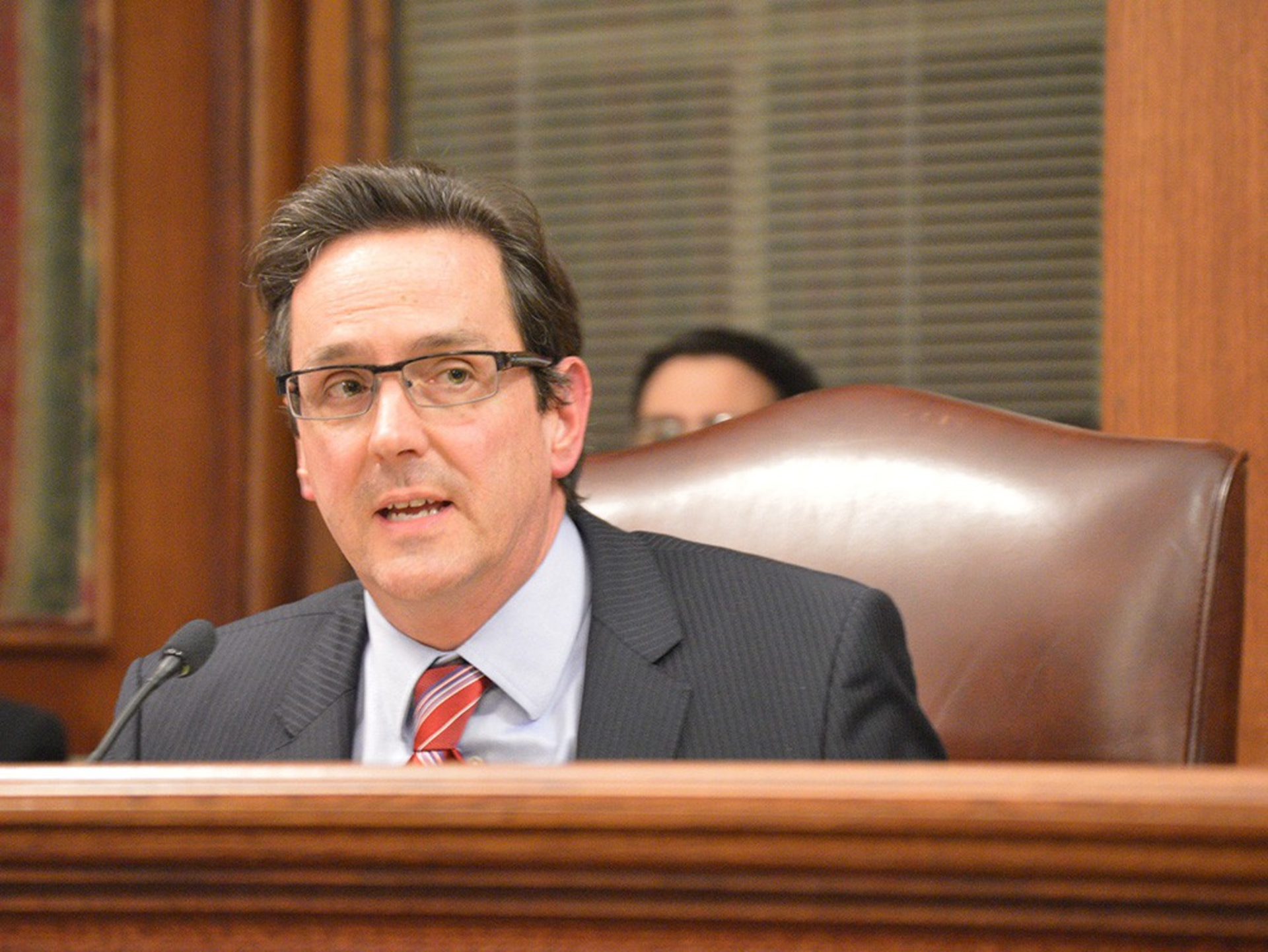 As far as anyone can tell, it's been more than a century since the Missouri Senate has held anyone in contempt. The unfortunate citizen back then, a man named Harry Nuttall, apparently showed up drunk for a corruption hearing in 1899. According to records, Nuttall apologized profusely once he'd sobered up, and the Senate decided that "his manly manner of purging himself of the contempt should be commended."
The Missouri General Assembly's deep appreciation of a manly demeanor persists today — especially when it's talking about women's reproductive matters.
So things aren't likely to go as well for the latest Missourian up for contempt charges: Mary Kogut, president and CEO of Planned Parenthood of the St. Louis region.
The Senate Rules, Joint Rules and Resolutions Committee wants her to appear before the full Senate on April 18 for a spectacle that has the makings of a full-blown inquisition.
Kogut declined to send documents and witnesses as requested to Sen. Kurt Schaefer's "sanctity of life" committee hearing last November. This was understandable. Witnesses at several earlier hearings had been berated and threatened. R. Bowen Loftin, then the chancellor of the University of Missouri's Columbia campus, was so rattled that he initiated a process that resulted in a halt to non-surgical abortions at Planned Parenthood's mid-Missouri clinic because the doctor who performed them was stripped of admitting privileges at Mizzou's hospital.
James Miller, owner of Pathology Services Inc. in Brentwood, Missouri, also opted out of a committee appearance, perhaps figuring that his earlier testimony at an accusatory House committee meeting was enough abuse for one season. He faces Senate contempt charges, too.
Schaefer's committee was created in the summer of 2015, after deceptively edited videos of conversations with a Planned Parenthood doctor gave rise across the country to allegations that clinics were illegally selling fetal tissue and body parts for profit.
Those allegations have not held up in Missouri or anywhere else. Missouri Attorney General Chris Koster spent months investigating the St. Louis clinic and in September said it was doing nothing wrong.
But that isn't good enough for Schaefer, a Republican from Columbia who is courting the anti-abortion vote in his run for attorney general. After Kogut and Miller failed to comply with subpoenas for his November hearing, he recommended contempt proceedings.
Defiance of Senate subpoenas must have "consequences," he has said. Schaefer likes to threaten to use consequences. It's kind of manly.
At the rules committee hearing on Tuesday, Alison Dreith of NARAL Pro-Choice Missouri reminded senators that the attention centered on the deceptive videos last summer had coincided with an increase in violence around abortion clinics. A shooting at the Planned Parenthood clinic in Colorado Springs killed three persons.
Schaefer made no attempt in his opening statement to avoid loaded language. "The documents we have asked for are the documents that establish either contractually or as a matter of policy, what is it that they do with aborted babies," he said.
Attorney Chuck Hatfield told the committee that Planned Parenthood of St. Louis, his client, had concerns about patient privacy and the broad nature of the subpoena and wanted to negotiate what records it would produce.
That sounds reasonable, but Schaefer was unconvinced. He accused Hatfield of using a stall tactic. Who cares about patient privacy, anyway?
One would think that Schaefer, chairman of the Senate Appropriations Committee, would be too busy to worry so much about a thoroughly debunked controversy. Apparently not. And Senate leaders and rank-and-file Republicans are ready to help him flog this dead horse — despite this indulgence's obvious hypocrisy.
Republicans in charge of the Missouri Senate and House love to vent about what they charge is an overbearing federal government. Now, some of these senators imagine that they have the power to demand the presence of citizens and sensitive documents as they please, with no boundaries and no accountability.
No one seems to know what will happen if Kogut and Miller don't arrive, records in hand, for the April 18 Senate appearance. The best guess right now is that everyone will end up in court; that could eventually mean a fine up to $300 or 10 days in a county jail, penalties allowed in the Missouri Constitution if the Senate holds someone in contempt.
Either of those "consequences" would be ridiculous. But Kogut and Miller may well prefer that punishment to one awaiting them in Jefferson City April 18.