Casey Adams, Kansas City Drone Company owner, talks building flying robots, his FAA-approved agriculture drone operator network and more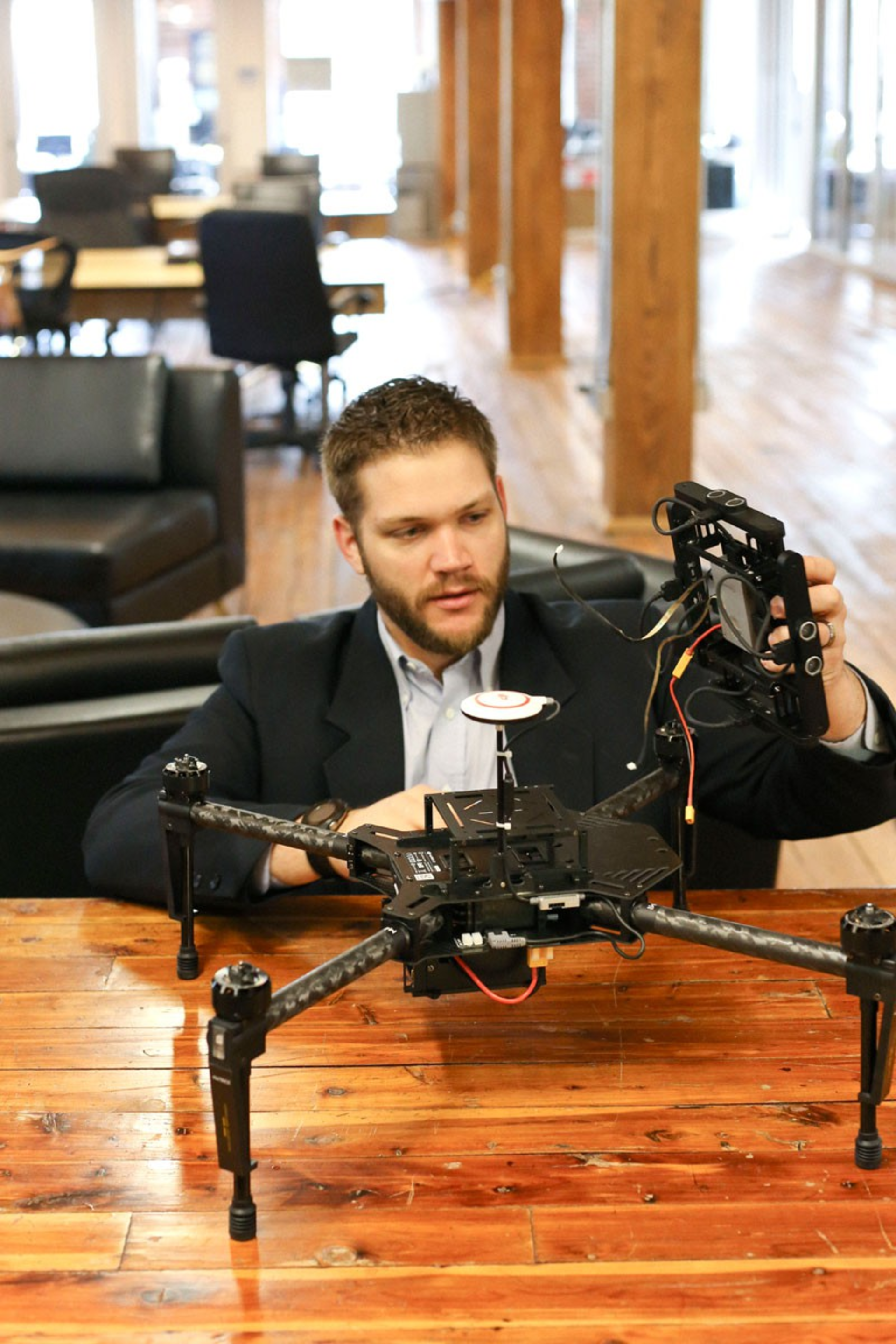 Twitter handle: @KCDroneCompany
Hometown: Barnhart, Missouri
What I do: A normal day consists of building flying robots and blowing minds. We are a distribution company. We collect and analyze data. Then we distribute decisions. Machine vision, predictive analytics and virtual reality are some of the "things I do."
What's your addiction? My family. (Help me score some wifey points.)
What's your drink? Free. I'm Irish. I'm not prepared to turn down a free drink. If I had to pay for one … I'd get a Manhattan at Tom's Town Distillery. Best Manhattan, hands down.
What's on your KC postcard? "Go away." Don't worry, it's part of the strategy. I don't want people to realize how awesome KC is. It's like the Greenland/Iceland scheme. It works for a while, but it's not foolproof.
Finish these sentences: "Kansas City got it right when …" It started investing real resources into small business startups.
"Kansas City needs …" More software developers … just sayin'.
"I've been known to binge watch …" Disney movies. Don't judge! You know you sing when Elsa is on! "The cold never bothered me anyway!" Show me one person who read that without saying it like Elsa, and I'll show you one liar.
"I can't stop listening to …" Happy Radio on Pandora.
"My dream concert lineup is …" Elsa from Frozen, (what? She can belt it.), the Beatles (when they were all here), Beyonce (-10 wifey points), Alicia Keys (-10 wifey points).
"As a kid, I wanted to be …" Everything. I still do. I've been a soldier, an aviator, robotics nerd, innovator, college football player and a father (+5 wifey points). But I haven't been an astronaut, race-car driver and astronomically rich. One thing at a time, I suppose.
The best advice I ever got: I'll never forget my Army recruiter. He kept telling me, "Trust but verify." That stuck with me.
Worst advice? "Join the Army. They will pay for college!" — my Army recruiter.
My sidekick? Student debt. Never seems to go away.
Who is your hero? My dad. Now let's not get too chummy.
Who is your nemesis? Uneducated people with drones. They are a danger to the national airspace and are confusing the heck out of people.
My favorite toy as a child: Teenage Mutant Ninja Turtles van and the whole Turtles family.
My recent triumph: Launching the only nationwide, FAA-approved agriculture drone operator network, flyagtech.com. We can service any farm, anywhere, anytime. We are mitigating chemical use and runoff problems using drones. We increase productivity, decrease costs and help our environment at the same time.