Brooke Barrier, owner of LABL (Language and Brand Lab), talks the Mutual Musicians Foundation, Parker Posey and more in The Pitch Q&A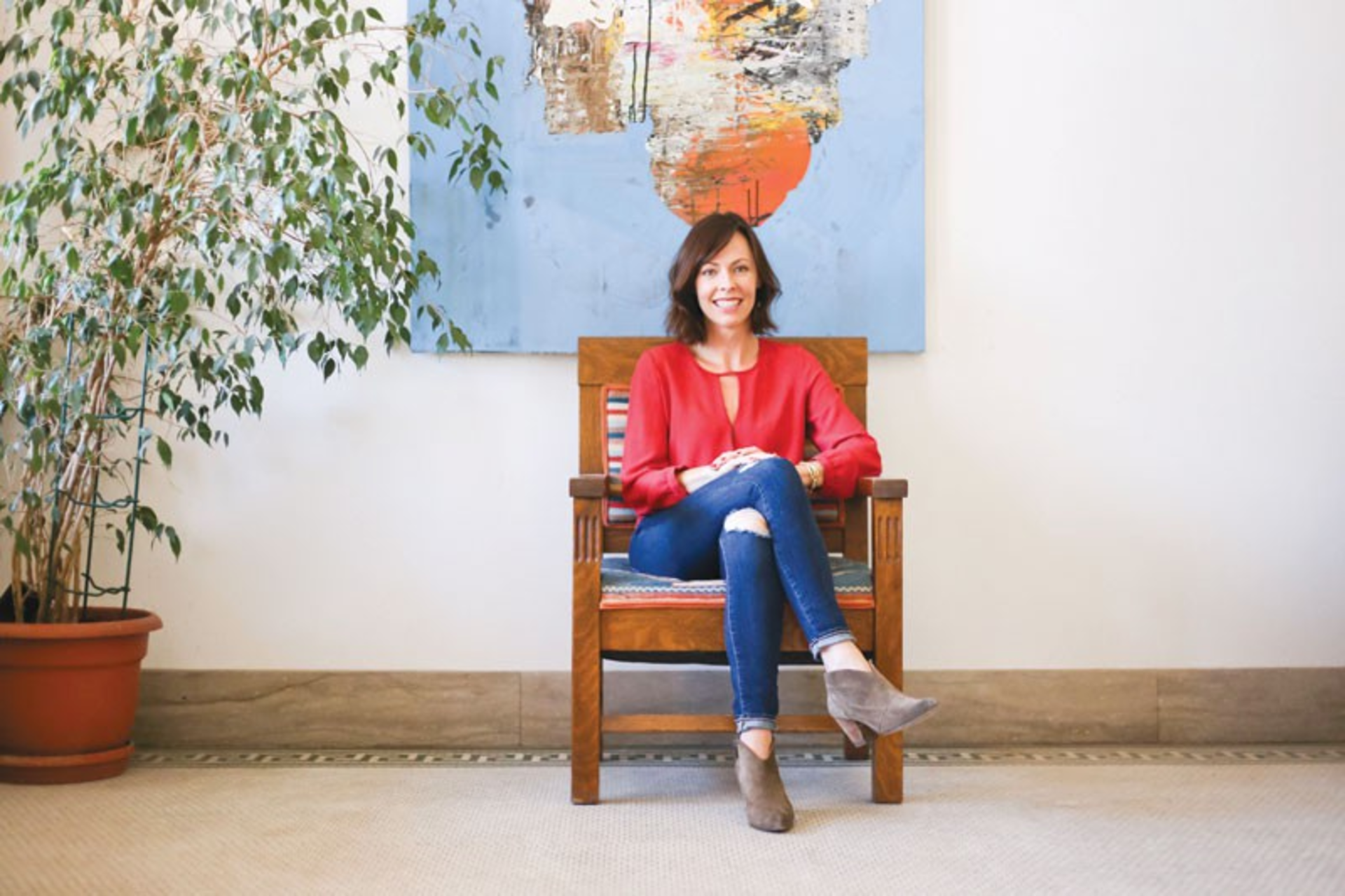 Hometown: Fairway
Current neighborhood: Volker
What I do: As the owner of a small branding firm, I help businesses define what they're all about, then help them share that information with their customers and communities. I also host the local chapter of CreativeMornings. If you haven't been yet, come check it out!
What's your addiction? Yoga, hiking, food, dartboards in dive bars.
What's your game? I'm a writer, so I'm a sucker for Scrabble. But Cards Against Humanity is a close second. It's rare that you get to combine the words "flying sex snakes" into a single phrase.
What's your drink? Sun's up: coffee and water. Sundown: Break out the red wine.
Where's dinner? If I pick everything, does it mean nothing? Oh, well, here goes: the bar at Bluestem, the Rieger Hotel, Bob Wasabi, El Pollo Rey, Room 39, Aladdin Cafe and Genessee Royale. I also love to cook, so sometimes dinner's at home.
What's on your KC postcard? That cool old cattle report sign in the Livestock Exchange Building.
"Kansas City got it right when …" The Mutual Musicians Foundation was named a National Historic Landmark. I've never been so inspired as when I walked through those doors the first time. The jazz, the musicians, the energy and diversity of the crowd. You can't help but get caught up in the rhythm of it all.
"Kansas City screwed up when …" Well, I hear The Kansas City Star fired Walt Disney for not being creative enough.
"Kansas City needs …" A subway or commuter train and an old-school Jewish deli.
"As a kid, I wanted to be …" A vet, a soccer player and a famous chef. I'll let you know how that all pans out.
"I always laugh at …" My own gullibility. It's not so hard to convince me of pretty much anything. That is not a dare.
"I've been known to binge watch .." TED talks. Makes you feel pretty invincible.
"I can't stop listening to …" Central Standard on KCUR. I love learning about the people in our community and what they're doing around town. After being gone for 18 years, this show helped me get reacquainted with KC, where we excel and where we could stand to grow.
"My dream concert lineup is …" Father John Misty, Michael Jackson, the Black Angels, Bon Iver, Johnny Cash, M83, Beck and Nina Simone. Guess that's more of a festival, though.
"I just read …" Never Let Me Go by Kazuo Ishiguro, and I'm working on The Gifts of Imperfection by Brene Brown. I usually have one fiction and one feel-good book going at the same time.
What's your hidden talent? I'm a dog whisperer.
What's your guiltiest pleasure? Weekly visits to Imperial Footcare. Best $29 ever spent.

The best advice I ever got: You can only control your own behavior.
My sidekick? Mabel, my boxer-pitball mix. Also known as Miss Wiggles, Mabellina and Face (don't know where that came from).
What is your spirit animal? Definitely the Lorax. We need to take better care of our world and each other. And, let's be honest, we could all use a good sneed.
Who is your hero? My mom. She's the most positive person I know and was also the first woman to be named a managing partner at a law firm in Kansas City. She worked her tail off and still did an incredible job balancing the needs of her family.
What is your nemesis? Time. I have so many ideas and goals, there are so many experiences I want to have and share. Yet, somehow, there are never enough minutes in the day.
What's your greatest struggle right now? Staying focused. As a small-business owner, I do it all. Jumping from sales mode to creative concepting to project management in a matter of minutes can be tough on the brain. I've found that shutting down e-mail and turning off my phone for an hour or two is the only way to get things done.
My favorite toy as a child: If I say "the stove," will you think my parents are totally insane? Let me explain. I loved cooking with my mom, helping my dad grill and concocting random mixtures from the spice cabinet then daring my friends to eat them.
My dating triumph/tragedy? The word tragedy should be reserved for natural disasters or the cast of Real Housewives. I've had my fair share of mishaps and triumphs, but I'd rather not kiss and tell.
My brush with fame: I ran into Parker Posey everywhere while I was living in New York. I finally moved to the West Coast so she'd stop stalking me.
My soapbox: Kansas City is a phenomenal community. But we can all work harder to make it more inclusive, more integrated.
My recent triumph: Launching my new company!
The next CreativeMornings is Friday, March 25, at the Kemper Museum of Contemporary Art (4420 Warwick) at 8 a.m.