Brock (aka Brockstar) parks his Skittles car and talks Dollar Tree, the streetcar, fashion design and more in The Pitch's Q&A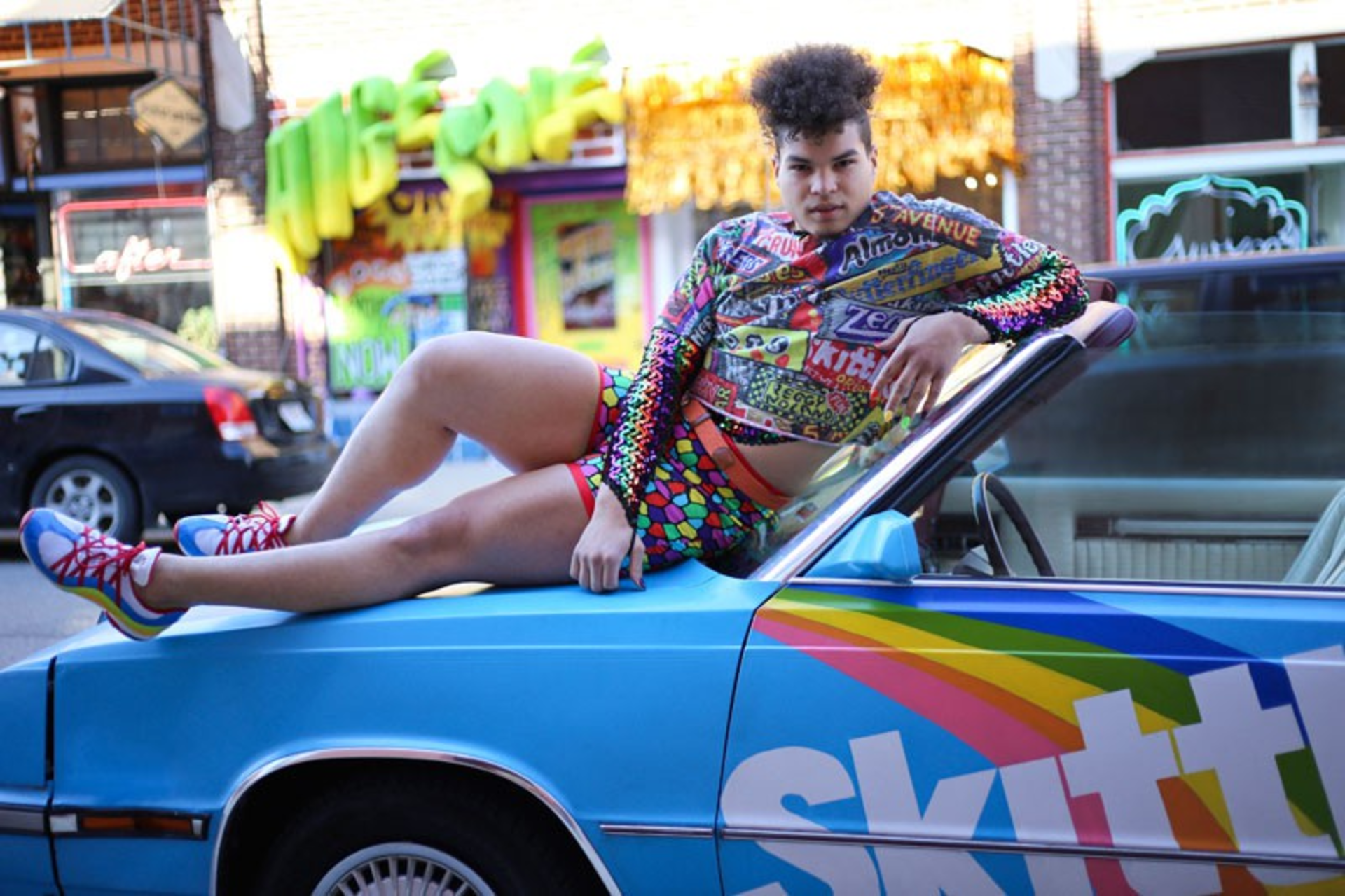 Twitter handle: @RiseofBrockstar
Instagram: IamBrockstar
Hometown: Forest, Mississippi
Current neighborhood: the Historic Northeast
What I do: Freelance artist and fashion designer, manager of Peggy Noland KC, cutting technician at Eleve dancewear, studio assistant to Sara Cramer jewelry. I have six jobs. I don't get tired. I am a creator of beautiful things! I enjoy sewing, drawing, singing and dancing. I love getting dressed in the morning … in spring. I love to bring the joy I have for life with me and share it with those I meet.
What's your addiction? I am addicted to shopping at Dollar Tree. I probably go there two to three times a week. I can buy anything I want without breaking the bank.
What's your game? Cards Against Humanity. I enjoy expressing my sometimes cruel sense of humor.
What's your drink? Anything with booze in it and "Organic" Rockstar energy drinks … daily.

Where's dinner? I love cooking at home, but my favorite barbecue spot is Joe's Kansas City. Gotta love that gas-station food!
What's on your KC postcard? Me and the Nelson-Atkins Museum of Art
Finish these sentences: "Kansas City got it right when …" Google Fiber came.
"Kansas City screwed up when …" They built a streetcar that doesn't go at least down to the Plaza. Also, when they changed the name from the Wizards to Sporting KC, because the Wizards is a way cooler name.
"Kansas City needs …" To support their local talent, artists and shops instead of buying cheap, mass-produced, sweat-shopped trash.
"As a kid, I wanted to be …" I always knew I was different. I wanted to be a chef, a game designer, a gymnast and finally a fashion designer. I guess I'm living the dream now!
"In five years, I'll be …" Famous! I'll be 29 in five years, and if I still have hair and junk, I hope to be well off, well known and ready to retire and have some babies.

"I always laugh at …" People falling online and in real life, but only if they are not hurt.
"I've been known to binge watch …" Toddlers and Tiaras, Project Runway, Real Housewives of Atlanta, My Big Fat Gypsy Wedding!
"I can't stop listening to …" I am obsessed with Ariana Grande. She legit turns me into a 14-year-old fan girl with pigtails.
"My dream concert lineup is …" I would love to see a real femme-fatale tour with Ariana Grande, Jessie J, Nicki Minaj, Britney Spears, Jennifer Lopez and Lady Gaga.
What's your hidden talent? I can clap with one hand. That should be enough to get a full ride to grad school, right?
What's your guiltiest pleasure? Buying cute underwear. It's nice to be sexy for yourself!
The best advice I ever got: "Leave Mississippi!" Though I have a lot of love for all my friends and family there.
Worst advice? "Don't put too much pressure on yourself." I believe, as a maker and artist, that you have to be very critical of your process and product to progress.

My sidekick? My phone charger and a lighter. There's simply nothing worse than a dead phone! I always pack my charger. The days I manage to forget it at home I feel deathly ill. People that smoke are usually the coolest (live fast, die young), so having a lighter is a good way to meet new people.
What is your spirit animal? Amanda Bynes. I love how she's the childhood star who left the spotlight and came back legit crazy. She's apparently doing a lot "better" now, so I'm proud of baby girl.
Who is your hero? Oprah Winfrey, bro!
What's your greatest struggle right now? I have so many ideas I want to execute with limited resources. Brett Rief once told me "limitations inspire innovations," and that has really stuck with me.
My favorite toy as a child: Fighting my siblings for the remote. Some of my favorite memories.
My dating triumph/tragedy? Yikes! So I have this effect on the people I'm dating where I make them fall in love with me, and then they find out I'm crazy. So they break up with me, or I dump them for something dumb because I may be a lil crazy. I'm so comfortable alone it's scary, but I am looking for my baby daddy.
My brush with fame: Working with Peggy Noland, who designs costumes for Miley Cyrus, Rhianna and Lady Gaga. It's hard not to faint every time she comes to town with more exciting stories of her adventures on the West Coast.
My soapbox: Black lives matter!
What was the last thing you had to apologize for? My favorite phrase is "sorry not sorry." I'm human, and if I make a mistake, I obviously didn't do it on purpose, and I'll fix it or you will, and I won't lose any sleep over it.
My recent triumph: I'm working on several projects. I was recently accepted into the West 18th Street Fashion Show's Wild Summer with my accessory collaborator, Sara Cramer.