THE GOONIES Movie Party
When:
August 18, 2019 @ 7:00 pm
2019-08-18T19:00:00-05:00
2019-08-18T19:15:00-05:00
Where:
Alamo Drafthouse
1400 Main St
Kansas City, MO 64105
USA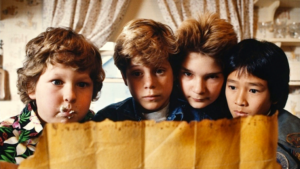 HEEYY YOOUU GUUYYS! IT'S TIME FOR OUR GOONIES MOVIE PARTY!
Tickets available at drafthouse.com
Let's face it, THE GOONIES never gets old (and they never say "die"). With its endearing cast of quirky kids and a plot filled with swashbuckling adventure, it serves as the ultimate fantasy for anyone who feels stuck in the mundane humdrum of everyday life.
That's why we're throwing an epic movie party to celebrate one of the greatest pieces of '80s entertainment ever made. We'll have a pirate ship's worth of fun props for you to play with, including flashlights (for bully blinding), a pirate's eye patch, and even a Smell-Along card, featuring GOONIES-themed scents like bubble gum and inhalers.
So throw on your Superman T-shirt and pirate hat, and join us as we escape into a world of lost treasure, dangerous gangs, and enduring friendship.