Squirrel Nut Zippers and The Dirty Dozen Brass Band
When:
February 1, 2020 @ 7:30 pm
2020-02-01T19:30:00-06:00
2020-02-01T19:45:00-06:00
Where:
Kauffman Center for the Performing Arts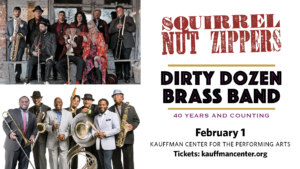 Since the 1990s, Squirrel Nut Zippers has been attracting national audiences with their quirky mix of jazz, folk, Americana, and contemporary music. The group touts an all-star cast of New Orleans musicians that make the band's unique, enigmatic sound. The Dirty Dozen Brass Band is celebrating more than 40 years of "musical gumbo" – a blend of bebop jazz, funk, and R&B. They've toured five continents, 30 countries and recorded 12 albums.