Sex, Sin, and Celluloid: Pre-Code Hollywood
When:
February 28, 2020 @ 7:00 pm
2020-02-28T19:00:00-06:00
2020-02-28T19:15:00-06:00
Where:
Stray Cat Film Center
1662 Broadway Blvd
Kansas City, MO 64108
USA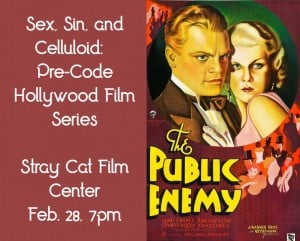 Mobsters! Bootlegging! Molls! Tommy guns! Murder! One of the foundational films of the gangster genre, The Public Enemy (1931) made James Cagney a star and pushed the boundaries of violence in movies. A review from the Kansas City Times called this movie and other gangster films of the early 1930s "misleading, contaminating, and often demoralizing to children and youth." So come have your morals corrupted by this classic of gangster cinema. The film will be introduced by Kara Heitz, historian and lecturer at the Kansas City Art Institute.
This screening is part of the "Sex, Sin, and Celluloid: Pre-Code Hollywood" monthly film series at the Stray Cat Film Center. Pre-Code refers to the era of Hollywood movies from the widespread adoption of sound in 1929 to the enforcement of the Production Code (a.k.a. "Hays Code") in July 1934. Many movies from this period openly depicted sex and sexuality, violence, drugs, criminality, profanity, and other themes that would become heavily censored in Hollywood for years afterward. Running the gamut of playful and suggestive to lurid and exploitative, Pre-Code movies give us a window into the changing cultural mores of America … as well as just being plain fun to watch!
Stray Cat Film Center is an artist-run, non-profit microcinema. Suggested donation is $7 a ticket. Food and beverages are also available for a donation.