Once Upon A Mystery
When:
January 24, 2020 @ 6:00 pm – 9:30 pm
2020-01-24T18:00:00-06:00
2020-01-24T21:30:00-06:00
Where:
Hotel Phillips
106 W 12th St
Kansas City, MO 64105
USA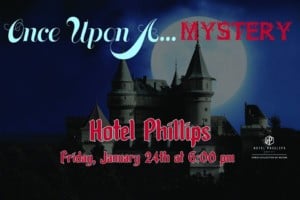 Join KC Crew at Hotel Phillips for a one-of-a-kind murder mystery party!
"A Timeless Tale of Treachery and Treason in a Kingdom Far, Far Away.
After the mysterious disappearance of Cinderella, Prince Charming is throwing a ball to find a new bride. Some of the Kingdom residents question how the prince could move on so quickly, while others are jumping at the chance to earn their spot as the new princess in the castle.
As the evening escalates, a killing occurs in the palace… leaving you to write the final chapter.
Will you point out the fairy godmother whose magic cannot give her the outcome she desires? The prince who has used his riches to alienate others? A devious dwarf who may know too much? Or perhaps a pouting princess who is plotting to win the heart of Prince Charming.
In a kingdom where jealousy, betrayal and deception
are common story lines, it will be up to you to find the
felon so that everyone can live happily ever after."
Dressing up is encouraged and will help you get into your part, dress as much to character as you would like. After you choose a character, you will be sent your role and most have a suggested attire. This party takes place in Fairy Tale Land!