Kansas City Ballet Presents "New Moves"
When:
2020-03-26T19:30:00-05:00
2020-03-26T19:45:00-05:00
Where:
Todd Bolender Center for Dance & Creativity
500 W Pershing Rd
Kansas City, MO 64108
USA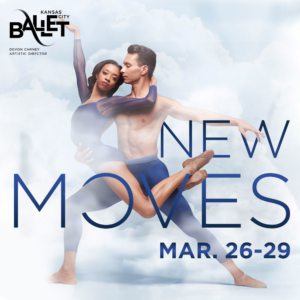 AN INTIMATELY INTENSE DANCE EXPERIENCE
New Moves, one of Kansas City Ballet's most popular performances, showcases contemporary ballet in an intimate setting. This limited-run production gives audiences a chance to see tomorrow's sought after choreographers. It is a very up close and visceral experience for audience and dancer alike. Come feel the athleticism, beauty, power and passion of never before seen dance creations!
Tickets currently available to subscribers only. Single tickets will go on sale Aug. 12. https://www.kcballet.org/performances-tickets/2019-2020-season/new-moves-2020/To purchase a subscription, visit http://www.kcballet.org/performances-tickets/subscribe/