Health futurism
When:
2019-10-09T00:00:00-05:00
2019-10-10T00:00:00-05:00
Where:
Kauffman Business Center
4801 Rockhill Rd
Kansas City, MO 64110
USA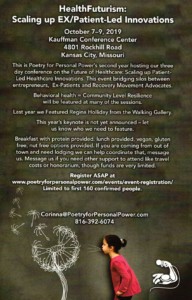 Three day conference on the Future of Healthcare: Patient-Led Healthcare Innovations. Includes Ex-Patients and Recovery Movement Advocates. Behavioral health = Community Level Resilience will be featured at many of the sessions.
What is HealthFuturism? HealthFuturism-Increase health equity with patient and community-led scalable business models by creating entrepreneurial ecosystems which support solutions created in marginalized and oppressed communities
Register here: https://poetryforpersonalpower.com/events/health-futurism-conference/
Breakfast with protein provided, lunch provided, vegan, gluten free, nut free options provided. If you are coming from out of town and need lodging we can help coordinate that, message us. Message us if you need other support to attend like travel costs or honorarium, though funds are very limited.
Prices:
$500 sponsors
$150 Healthcare professional or Entrepreneurs
$40 Patient-led healthcare innovator
Register below: Limited to first 160 participants confirmed and paid / scholarshipped.
http://poetryforpersonalpower.com/events/healthfuturism-conference/