CannaBrew Flame Off & Art Show 2020
When:
2020-04-04T00:00:00-05:00
2020-04-05T00:00:00-05:00
Where:
Brewery Emperial
1829 Oak St
Kansas City, MO 64108
USA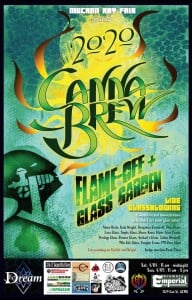 In partnership with the amazing team behind CannaBrew KC, the Missouri Cannabis Business Network proudly presents "The Missouri Cannabis Art Fair & CannaBrew Flame-Off & Glass Garden." This event was created to promote the normalization of cannabis through a fun family friendly environment. We are proud to introduce our community members to their local cannabis industry professionals, Missouri's finest glass blowers, and a variety of local artistic talent from across the state.
Glass Artist interested in Vending Competing or want to just come out to our Free Open Demos on Day 2. Visit us at www.cannabrewkc.com or email blevitopher87@gmail.com
VIP BAGS AVAILABLE NOW!!!!!!