ABEL RAMIREZ BIG BAND DANCE
When:
December 10, 2019 @ 7:30 pm
2019-12-10T19:30:00-06:00
2019-12-10T19:45:00-06:00
Where:
CAMELOT BALLROOM
6635 151st St
Overland Park, KS 66223
USA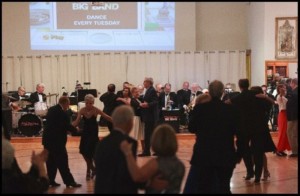 The Abel Ramirez big band is a 17 piece band that play classic big band jazz in the same style and tradition that made Kansas City famous. They play music from the great American Song Book.
They do a really wonderful show called "An Evening of Sinatra" featuring various vocalists.
Abel Ramirez 17 piece Big band can also play the best Ballroom Dance music! Professionals and amateurs can Rumba, Tango, Cha Cha, Samba, Mambo, West Coast, East Coast, Waltz and Foxtrot.
"Dancing With The Stars" has brought back ballroom dancing which appeals to a wide range of people from teenagers to people in their 90s.
The music has a nostalgic classic big band sound like Count Basie's Kansas City swing era in the 1950s. Featuring vocal styles of Frank Sinatra, Dean Martin, Bobby Darin. The band has played the Italian Festival for 10 years! Weddings, Corporate Events, Golf Country Clubs, Festivals, Dances!